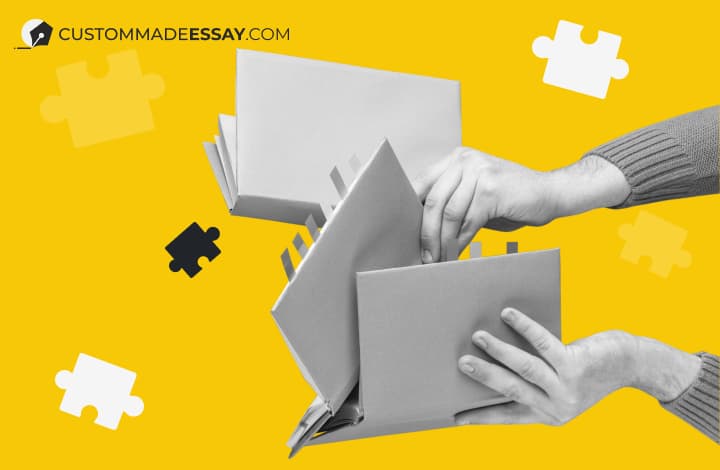 Being a student of any academic level means writing countless papers. Essays are the favorites among them. The profit of essay writing is evident: it is an effective means of independent learning. Also, students write essays on many occasions. For instance, requesting a scholarship includes writing an essay. It differs from academic essays in content, but many features are similar in all essay types.
An essay is, in fact, a very demanding task consuming lots of time and energy.
To help the students cope with any essay assignment quickly and easily, we've prepared this guide on how to write a simple essay.
Start With a Simple Essay Outline to Pick the Structure
The essay is about structure. You may conduct the most thorough examination of the theme and produce fascinating and trustworthy ideas. Still, they won't work without a correct system. In this case, we mean not only the standard essay building of the Introduction, the Body, and the Conclusion.
The structure is the way of organizing all elements in the essay. It includes each claim, argument, and reference. The correct form makes sure that a piece is concise, all ideas have their continuation, and reasoning leads to conclusions. That's why it is important to outline the paper at the start.
It is not a secret that some students tend to ignore this step to save time. In fact, it would be the wrong approach. The outline allows you to create a detailed image of the essay. Then, you start to write it, already knowing the data and the order of elements. You can even define the right place for each idea and citation.
Hence, when you wonder: what are the steps to write an essay, it would be as follows:
Research;
Outline;
Write;
Revise.
How to Conduct Researches Properly
Research is necessary for any writing job. No matter which essay type you must do, you need to collect the information first of all. The rules of research are simple:
use only reliable sources. Whether you work with paper of online books and articles, check the publications – they have to be reputable and unbiased. Always check the dates of publication and refer to the latest sources to avoid misinterpretations and obsolete information;
some subjects, like social sciences, suggest that you refer to the current discussions in society. In this case, forums and social media can be relevant. Still, you need to check them properly too. The information should be from those accounts that represent valuable points of view and social trends;
always make notes while researching and write the sources' details down. First, it guarantees that you won't miss the necessary details. Second, you need references and a list of works cited. By marking the sources during the preliminary investigation, you save time after. All the data you need will be at hand;
analyze the information you've gathered. Pick those arguments supporting your opinion best of all, and list the arguments applicable to your concepts.
Usually, a student understands what the essay will be about after the end of the research. It would be a general, vague image at that time, though. To sharpen and strengthen it, you need an outline.
How to Prepare an Outline
The outline is the planning system in the form of a list with many levels. The more levels and details there are, the better you elaborate on your paper.
College essays mostly include five paragraphs: one for the Introduction, one for the Conclusion part, and three for the Body. Of course, it is not obligatory – the number of sections can be different, depending on the task requirements. Transition phrases connect these sections together and develop their logical sequence.
All these parts are present in the outline. You also sketch each part's contents and develop the order of components:
Introduction
the hook – a piece of relevant and appealing information. Its goal is to attract public attention and set the people up to following your article;
the presentation of the theme and its value – here, you explain what your essay is about and engage the audience to listen attentively. The audience would expect to get some profit, so prove it;
the thesis statement illustrates your point of view about the topic. It is the pivot of the entire essay, as everything you write relates to this statement. You should form this element when you do the research and analyze the materials, as then you understand the focus of your essay;
the transition link to shift naturally to the Body.
Body
Paragraph 1:
the topic sentences. It is the opening phrase of the section that introduces the key idea explored in this section;
exploration of the topic. Here, you sketch what you plan to talk about in this particular paragraph. Claim your point on the theme and refer to evidence in its favor. If you cite someone else in this section – note where exactly you put the reference, directly or indirectly;
the intermediate mini-conclusion. As you examine some statements in each paragraph, your findings must not "hang." This mini-conclusion is an illustration derived from reasoning and evidence;
the transition links.
Paragraphs 2 and 3 follow the same pattern. After the final Body section, put the transition to the Conclusion – the essay's final section.
Conclusion
the thesis restatement. Read the thesis statement and check if you succeeded in proving it. Then, restate it by paraphrasing the initial wording, and provide a new perspective or context. For that, you use the information from the Body, and nothing new and out of the blue;
some reasoning about the value of this research. You might consider how it can serve in further examination of the topic, or which other ideas it can ignite;
the final "mirror-hook" – an appealing phrase that should leave your audience engaged.
With this outline's help, you develop the correct essay structure, make sure that all logical connections are in place, and you have everything you want to say with this essay. Now you can write this paper.
The Proper Steps on How to Write an Essay for Your Topic
When you have a ready outline, consider the major part of the work done. The writing process now depends on your physical conditions and concentration. Some people prefer to write the essay down right after making the final outline not to lose the right mode. Others need rest to refresh their minds. The approach to an easy way to write an essay is individual.
start from the Body section. An easy way to write an introduction to an essay is to leave it for the end. Even if you have it outlined, you need to correlate the Introduction with the Body. So, you need the Body first;
take care of your vocabulary. Use more precise definitions instead of general banal words, but avoid rare and too sophisticated words. Your goal is to write clearly and concisely so that your ideas are strong, sharp, and precise. The language is an illustration of your high level;
when you complete the essay, revise it. Check the mistakes of all types, and fix them. If possible, let yourself rest for a couple of hours, then get back to the piece and revise it again. You will note issues with grammar and style missed during the first revision. Correct them all;
format the piece according to the style defined in the task requirements. Use the academic formatting guidelines, especially for the citations and bibliography;
check the essay for plagiarism to make sure there is not an issue of unintended plagiarism.
This is how to write an easy essay on any subject. Follow this pattern, and you will always cope with the job efficiently.
Get Professional Aid and Essays Made Easy
Simple essays come as a result of practice. The more you train your writing skills, the better you master this art. It is a helpful skill, as the grades you get for essays contribute much to your final score. A reputation of an easy essay writer is excellent for your academic records.
Still, if you have issues with your essay task now – there is no need to struggle. Make use of our professional custom essay writing service. The team of expert writers will gladly support you at any stage of work, with any element or the entire essay.
How To Write An Academic Essay
An academic essay may be easily considered as the most common type of study task. Depending on its topic, the best strategy of academic drafting may vary. But, the principal points that should be definitely expanded in any essay remain unchanged. We will share with you here useful info on how to write an academic essay well. So, let's, start our overview.
What is an Academic Essay?
There is no single definition of what is an academic essay. We don't see even any practical point in defining it strictly. But, to make a long story short, this is a sample of academic drafting designated to expand a certain essay topic shortly, develop and present one's opinion on the academic subject, and support such with the best possible arguments. Completing this academic task obviously requires a specific set of your skills, like creative thinking, critical review and research, and, of course, essay drafting to the point.
Main Types of Essays
Surely, you can be assigned various types of academic essays for drafting. But, here we will provide you a general overview of the most general types of this drafting assignment:
Narrative essay – introduce the overview of the most considerable aspects of your topic in a descriptive and a bit reflective manner. This essay is definitely about crafting a story.
Descriptive essay – this task focuses on describing certain aspects, patterns, points. Moderate giving of details is obviously desired here also.
Expository essay – in this text, you present sufficient info and facts on the subject to explain that maximally best, correctly, and to the point.
Persuasive essay – surely convince your future reviewer that a certain matter of view is more credible.
Regardless of its type, there are obviously certain aspects the best-drafted academic article should include.
Features any Good Academic Essay Should Have
Before we tell you about the most important aspects of writing an academic paper, we also want to give you useful information about its obvious distinctive features:
The topic of any academic essay, due to its short length, should be narrow and to the point. The title should definitely reflect the principal point of your subject of essay drafting.
It has a greater degree of consciousness – be maximally concise and precise here because you are limited in space. 300-500 words are not too much but enough for saying everything well.
It is structured well. Even if you have really good essay ideas, you need to present them to the reader one-by-one.
It has a very clear main essay idea – your thesis statement should be definitely formulated explicitly and be central in your text.
Personalized nature of info – your text should be definitely formed around your personal opinion only. Consider drafting this academic essay as an opportunity to share your valuable thoughts on the subject.
Your opinion is well-supported. This means you provide sufficient pieces of evidence and examples where this is definitely necessary.
Writing an academic paper obviously requires a lot of patience and creativity. This is the exact chance for elaborating on exclusive academic essay content and getting surely valuable experience. But, there is one important aspect we definitely want to draw your attention to.
Tips To Follow Academic Essays Format
The exact academic essay format usually defines your instructor. This may be MLA, APA, Harvard, or any other style of formatting. We emphasize this aspect because students often neglect to comply 100% with all formatting requirements. So, they surely get the lower score even if they have even the best content. That is definitely a pity. So, we what to prevent you from this.
Definitely, you may easily arrange that compliance by highlighting all academic demands you should follow directly in your essay instructions. Another good suggestion is to make your shortlist of all essay points you should definitely check. If you find certain aspects of essay formatting especially difficult, craft a scheme for it where this is surely possible.
Outline Your Essay before Drafting
We encourage you to do this to save time. Often, students neglect this stage of essay writing because a topic appears to be easy for them. In the final, you may easily find that your ready essay is far from being structured and well-developed. So, you will surely need to redraft that. Do you intend to waste your time? We have good suggestions to prevent that.
You may easily take a separate paper and compose your scheme of essay ideas with hooks and examples. This will surely help you visualize the appearance of a future essay. For a better organization, you may easily find specialized software for free that arranges ideas. The last idea is a bit complicated, but it is used by professional writers mostly.
Regardless of the approach you choose, your academic essay writing should be well-organized in the final. Outlining your essay will surely facilitate that. Don't neglect it.
How to Compose a Strong Introduction?
Writing an academic essay is obviously impossible without a strong opening sentence. Think well on your hook. This may be, for instance, a quote, controversy, or question. The principal point of this statement is to establish definite contact between you as an author and your reader.
The introduction has to definitely engage your reviewers and pass their attention smoothly to the main thesis statement. It should be brief, to the point, and followed by a smooth linking sentence to the next part of your text.
The main body is obviously the most significant part of your essay. It should comprise up to 5 paragraphs and form a clear and logical line of opinions that expand a thesis. Include in your text short explanations and pieces of evidence where this is obviously possible.
What about the Same Strong Conclusion?
The last step of your academic essay drafting is making its conclusion. Note that you should leave reviewers with good impressions. So, think not only about restating your thesis well but also about another best hook for that. Be courageous to leave your reviewers with points to negotiate and think about.
Good Final Tips for You
You may surely draft your academic essay in any manner you think appropriate to your context. Still, there are aspects you have to emphasize:
If you require to carry out preliminary research, the process only contains accurate sources. But, definitely always read any of them critically.
Draft essays concisely. Obviously, remove any excessive word or phrase that brings zero value to your academic essay.
Ensure your text has a line of narration. This is necessary for making it well-organized. Your reviewer should easily form an image of your text.
Your text should be definitely flowing, appear a bit like a poem or novel. In this aspect, we mean it should be easy to read and perceive the main point you communicate, maybe even with a rhythmic effect where this is possible.
Edit your ready essay to remove all excessive details, overwordiness, and deficiencies. Online editors may facilitate that to the best. But, don't rely on such maximally. Surely, prioritize your opinion in this respect.
Verify grammar and punctuation after your drafting has been completed.
Get Professional Help If Needed
We hope this useful info on how to write an academic paper will help you best in crafting your amazing essay paper text. In this case, feel free to return here, refresh your knowledge on essay writing, or get extra and the best essay drafting assistance.
Our team can help you with editing and proofreading the text. Moreover, if you don't want to write the essay, or lack time to finish the assignment, you can order it from our experts. They will follow all the requirements and help you to get the highest grade.