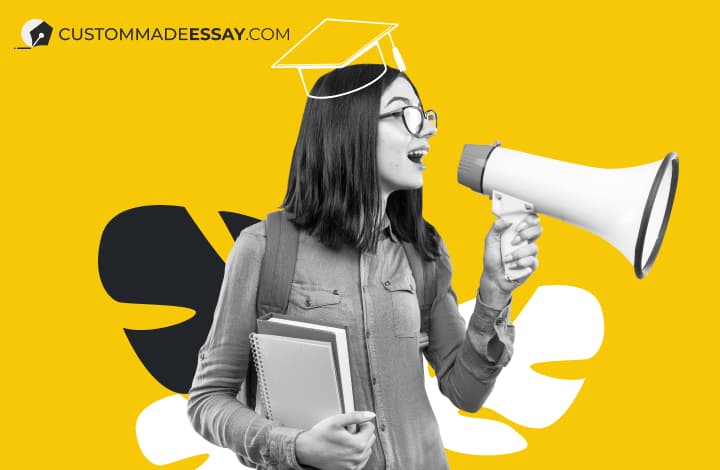 A graduate essay is a term that can puzzle, but it is not so sophisticated. In our case, it means a specific piece that a student composes for the grad school admission board. The official name of the document is a "personal statement."
This paper is a close relative of an admission essay that you compose when you apply for a college. Similar to the college application, you have to be present yourself as a perfect candidate. You try to overplay your possible competitors, as there are fewer spots than applicants, especially in famous universities.
The personal essays for graduate school are the most potent aces that students can play at this stage. When admission boards know nothing about you as a person, it is your chance to get acquainted. A short piece of writing must convince the board that they should accept your application and invite you. To ensure that, it is not enough to present the list of your achievements – if you aren't an established researcher already, many students have similar pros.
Making a good personal statement is not some "mission impossible." The key is understanding of what the schools really seek in those documents. Their needs are practical: your qualification and experience must meet the grad school's criteria and match their primary goal – improving the university brand.
It can be a catch. Some students try copying successful examples of such applications without in-depth understanding of their pluses. It is not a working approach. Instead, you need to master the format of the personal statement. Then, apply its requirements to yourself and compose a bright, original document that does you justice.
What is a personal statement for graduate school? In this article, we'll share the writing guideline. It served excellently to many candidates who were accepted in grad schools.
Approaches to Writing a Personal Statement for Graduate School
The essence of this document is proof. You compose it with several specific purposes:
Proof of having the necessary qualification;
Proof of having the motivation to work hard;
Proof of your capabilities to bring benefits to grad school.
There is one more point that the committee considers while reviewing your application. It is the writing style. The thing is, you need to demonstrate impressive skills in academic writing.
First, it shows that you are familiar with the academic rules and specific writing features. Second, you should prove that you can expose your idea clearly. Finally, university studies always involve loads of writing tasks, and your essay demonstrates your abilities to cope with them.
Admission boards want and need to make sure that you can achieve success. The key point is to add fame to the school. Your contribution must be significant and valuable. In other words, they need to ensure that you can conduct your research, complete is successfully, and earn the degree.
The Personal Statement Correct Structure
Writing this document is often complicated because the student needs to talk about many things, but the essay is short. There is a question: "how long should a graduate school personal statement be?" It occurs every time as students start to work on this job. The optimal length is about 500-600 words, the same as for the college application essay. It can be longer, especially for some famous schools. Check this aspect related to the grad school of your choice.
The reason for such a limitation is simple. There are tons of applications, and the officers can't afford to spend much time reading and evaluate each personal statement. Being concise is a mandatory requirement. The size restriction impacts the structure and the contents of the document as well. A student has to provide specific information in a definite order.
The graduate school personal statement outline matches the standard essay structure with the Introduction, the Body, and the Conclusion parts.
Introduction
Like in other essays, you have to grasp the audience at once. The issue of how to start a personal statement for grad school is always burning. Hence, in the introductory part, you provide basic information about yourself and your reasons to apply. The information you provide should be the following:
An introductory section about yourself. Mention your name, the current placement, and a couple of the most critical academic achievements. Then, state the purpose of writing this document – that you apply for grad school;
Describe your academic goals. This information should present your motivation to excel in the chosen field for the admission officers. Don't go into detail here – leave it for the Body sections;
Explain your choice of this university. The goal is to prove that you know precisely what you will face and readily make the most of your chance. Be very specific about the courses you plan to take, scientists you want to learn from, and other details.
Main Body
The main section of the personal statement usually consists of three paragraphs. You have to explore the opening section and present more in-depth information on the following matters:
Goals in the academic field;
Previous professional achievements;
Evidence that you suit this particular school.
As for the contents of the Main Body particular sections, focus on the following:
Explain why you choose this school in more detail. One essential tip is to mention only a couple of reasons – it shows your focus. The admission committee wants specific and reliable information about your future plans. Note also that your reasons to apply should match your general academic goals;
Describe your strong sides. The goal is to demonstrate that you already match the criteria of this university. Thus, your qualification allows you to bring more success to this school. Mention your publications, successful projects you took part in, and other concrete achievements. It is excellent to present yourself as an established researcher who can cope with any professional task brilliantly. Make sure to adjust your advantages to the school's requirements and policies;
Appeal to future goals. This piece should relate to long-term academic plans. The goal is to explain how you will use the knowledge and degree obtained in this university in your career. It is proof that you will make a weighty contribution to their university brand for the admission board.
Conclusion
The final section is the summary of your personal statement with a "high-note" final. Include the following details:
Sum up all arguments in favor of your candidature;
Relate them to your academic purposes and the requirements of the program and the grad school;
Basing on these data, finish the essay with a claim that you are an ambitious researcher who matches the criteria, and will undoubtedly add more glory to this grad school.
It is what you should write about in the personal statement.
The Grad School Personal Statement Tips for Writing It Easily
All tips for writing a personal statement for graduate school start from the research recommendation. Your first step is to collect as much information about the grad school of your choice as possible. Read about its programs, courses, and conditions as possible. Then, you analyze this information.
List all the requirements separately, then list your advantages – qualification, skills, professional experience, and achievements. Match them to create a foundation for the statement of goals for graduate school. Practical accomplishments are the best evidence. Still, if you lack them – apply to other relevant qualities that build you the foundation for success in that field;
Get familiar with the examples of personal statements. See how the successful applicants presented their advantages. Examine the means they used to persuade the admission officers and how they built the structures. But you must not copy them – it is a plagiarism, and it will ruin your academic reputation for good;
Make an outline. Note again that it should be a narrative, with all components related to each other and supporting each other. You need a thesis statement too. It is simple: you are the best candidate. Using the outline, develop the "plotline" and pay attention to the most impressive evidence;
Use active voice and write in the first person. Mind your vocabulary: it has to show your intelligence, but don't use rare and sophisticated terms. Keep your phrases clear and concise, but not banal. You may use some specific terms if your field requires it but limit such words to a minimum;
The personal statement for grad school format demands you to be 100% correct in grammar and spelling. Use the automated spelling checkers, but don't rely on them only. Reread the document after completion and fix the mistakes. Then put the paper aside and rest. You will need more than one revision, so take your time and refresh your mind;
If possible, get professional feedback. Refer to your college professors and ask them to evaluate your goal statement for grad school. They can detect the details you might not think of;
Note that you might need to compose several such papers, should you consider several universities. Make sure that each application is individual and unique. It has to match the exact school and course. If it is your case –prepare a separate personal statement for each option.
Writing a grad school application essay is a demanding job. If the current application fails, you can't apply again until the next year. Thus, you need to pay all effort to make an essay winning the place in grad school for you right now.
One more option is to address the professional custom personal statement writing service to order this document. We have specialists in writing personal statements with outstanding records of successful applications. If you want to be sure of success – we'll be glad to help you.
How To End A Personal Statement For Grad School
It is not a secret that a final paragraph of a personal statement is extremely important. With its help, you can remind the key points and leave the audience with a great aftertaste. You can close your statement with a motivating sentence and linger in the minds of university experts for a long time.
However, concluding a personal statement is not the simplest task and should consist of the following elements: choice of the right strategy, selection of the most valuable courses, and proper presentation tools. You can talk about your value and show that you are a great candidate.
Our experts from custom essay writing service have already written thousands of personal statements, so know how to finish it in the best way. Read the tips and guidelines below, and you will never have to worry about a conclusion. CustomMadeEssay is a team of experienced writers, and you can totally rely on us when completing such an important task!
How to Finish a Personal Statement: A Step-by-Step Guide
Personal statement conclusions are often underestimated because a person is so tired of writing that only thinks of how to close the paper and press the 'send' button. However, it may cause them to enter the chosen school or even a career because there may be thousands of other candidates in the same position.
That is why you should learn how to write a statement of purpose ending, especially if you are genuinely interested in the future. Go on reading, and we will share the main tips on how to finish your statement in the best way.
Make Notes Along the Way
Inspiration may come no matter what you are doing: watching a movie, talking to a friend, or having a walk in the park. Actually, a great idea of an ending may appear even if you are still writing an introduction.
That is why the first and one of the most important tips is to be aware of those ideas and not to push them away. Write them down in the paper itself, in a notebook, or on your phone. Thus, by the time you start working on a conclusion, you will already have a few valuable ideas.
We recommend having a separate document on a smartphone, so you can write ideas on the go. Thus, you won't have to spend hours trying to remember the thought.
Breaks Are Crucial
We hope that you won't write a personal statement in one sitting. Your productivity and energy levels are dropping, and the result may not be as good as expected. If you have already written quite a lengthy piece and there are hundreds of words on the screen, put your computer away and give yourself some time to relax.
Most likely, the body paragraphs take the biggest part of your writing time, so you don't want to ruin everything just because you don't have enough energy for the conclusion. Relax, spend some time with the people you love or do hobbies, and return with enthusiasm and a clear mind.
That is why you should start working on a statement well in advance. Fortunately, most courses have long deadlines and are published beforehand, so you can get familiar with them without any hurry.
Read What You Have Written
Before writing a conclusion, we recommend reading the introduction and body paragraphs to remind yourself once again of what you have already discussed. This may give lots of insights and useful information for the final section.
Such simple but effective took may also save lots of your time because you might find a few paragraphs that fit better in conclusion, and there won't even be a need to write one. Nice, isn't it?
Be Clear
A conclusion should consist of not more than a few paragraphs, so you should keep the final section short and to the point. Being too wordy or indicating unnecessary details may ruin a positive impression from the work you have already done.
We recommend avoiding clichés and open questions that you are not planning to answer. Remember, it is not an essay, and the admission board won't like that.
Here is how a formula of a winning personal statement's introduction looks like:
Your long- and medium-term goals. Discuss what you are planning to achieve throughout a career (within 10-20 years) and during 3-5 years after finishing the program.
Short-term goals. Once more general goals are indicated, scale them down. Think about the stages you should complete to achieve the medium- and long-term tasks. Most likely, they will involve the goals to accomplish during the program. Short-term goals usually involve particular skills and instruments, research tools, and any experience that will help in building a career and achieving the most ambitious goals.
Relevant features for the chosen program. When you have discussed your goals, write down characteristics that you are willing to master and achieve. For example, technologies, courses, and instruments. This may include faculties, internships, and training programs of an institution that will broaden the horizons for you.
Finish. Once the above is indicated in your conclusion, it's the right time to finish. It should be one or two sentences that show your strong motivation and confidence.
The Best Ways to Conclude the Personal Statement
By now, you know everything about good closing statements and already have a few tools that help to create a winning paper. Now it is the right time to discuss how to conclude a personal statement for graduate school with distinct examples.
When working on the final section, your main goal is to concentrate on the statement's key elements. Don't forget that it should be effective, clear, and brief. Summarize your experience and achievements, and explain what makes you a great candidate for the course. Make sure you follow the standards of length: the conclusion should be approximately one-third of the whole statement (around 200 words).
It is a misconception to think that you only have one chance to make a first impression. And ending a personal statement properly proves that. Here are the best tips with examples that may significantly help to grab the board's attention and to impress them:
Indicate the main points like your key skills, qualifications, and abilities. The board wants to know whether you are good for the program.
Show your enthusiasm and willingness to learn. You must indicate your inspiration and why you have chosen a particular course.
Discuss your transferable skills, showing how you can use your experience to achieve the above goals. This may be organizational skills, leadership, working in a team, and so on.
Emphasize that you are open to new challenges and opportunities and are not afraid of difficulties. Explain why you can be successful in a chosen course and show that you have conducted strong research of the program and are sure that it fits you.
Once again, restate key points to connect all sections of the statement, making them sound good together.
The Worst Ways to End the Personal Statements
We have already discussed what the conclusion paragraph of a personal statement should consist of. You also know how to link the introductory and opening section with the final one. These tips are useful for any course and program and will significantly increase your chances of being accepted.
However, there is one last thing we would like to discuss a conclusion for personal statement. It is the mistakes that you should avoid. It's always better to learn from someone else's mistakes, and we strongly recommend reading the information below attentively.
Here are the things to avoid in a personal statement ending:
End the conclusion with an open question and leave the board without an answer. Leave rhetoric questions for essays.
Write things that are not related to the main topic. Admission committees read tones of statements, so they want only the most important information.
Show an absence of a point of view or clear plans for the future. This shows that you lack seriousness and are not sure whether you have chosen the right college.
Choose courses that don't relate to your school.
Copy and paste someone else's thoughts and ideas. Plagiarism is a crime, and you may get yourself into big troubles.
If you want to be accepted to a particular academic establishment, good grades and motivation are not enough. You should show interest in a program and explain why you are a great candidate. And you must create a strong conclusion that will leave the board impressed.
In case you are willing to entrust this stage to professionals, Custommadeessay is a great idea. We write papers from scratch, as well as solely its parts. You can additionally order proofreading or revision to polish an existing conclusion or any other assignment.
With us, your personal statement conclusion will be flawless!